The holidays are supposed to be a holly-jolly time with loved ones, but they can also be a hairy-scary time with pinterest as you frantically try to whip up some rum-spiked eggnog cake with peppermint frosting.
Galloswag is here to declare: Don't let your ability to make merry be sabotaged by the culinary pressures of the holiday season! I have a few tricks up my sleeve that are guaranteed to release you completely from all of the stress, fatigue, time, money, and emotional breakdowns that inevitably occur during holiday food preparations. 
What's the secret? Well, just between you and me… 
The secret is to get all your friends and family to stop asking you to bring food to any holiday gatherings.
Sounds to good to be true?? Read and learn, my friends — read and learn!!! These are tried-and-true methods that either I or my family members have empirically tested and proven to be successful.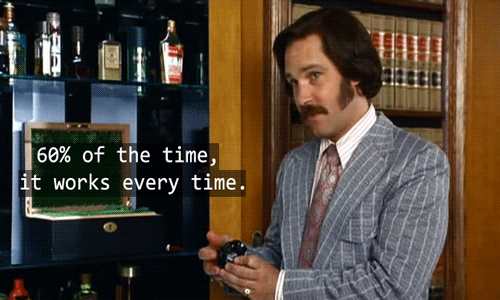 ·    Make your dishes memorably terrible
o  You can't half-ass this, folks. I'm not talking about rolling up to Christmas dinner with an underwhelming pot of green beans. The key here is to make a strong, negative impression on all the guests. One of my personal favorites is leave out whichever ingredients make the dish good. For example – mom asks me to make some homemade hot cocoa? Sure thing, but I'll leave out the sugar. My aunt needs me to whip up a batch of mashed potatoes? Gladly, but those taters will arrive sans buerre.
o  A second technique that is a nuanced yet sophisticated variation of the "leave out the gooduns" described above was perfected by my brother. He doesn't just leave out what's good, he leaves out what makes the dish the dish. Yep — leave pumpkin out of the pumpkin pie and chuckle to yourself as your family reels in shock. 
o  Third, simply omit important steps of the recipe process. All the ingredients are there, but you masterfully manage to still ruin the texture somehow. A simple example of this is to not drain pasta before mixing in the sauce. Turn that mac 'n cheese into a watery soup with floating pieces of pasta and just a subtle hint of velveeta. They will be incensed!
o  If passive omission isn't quite your style, you can always aggressively substitute ingredients until the entire dish is unrecognizable.  Trade that butter for apple sauce, sugar for molasses, pasta for potatoes, cilantro for parsley, and pretty soon you will have a disastrous cacophony of flavors that is sure to distress the most appeasable of palates.
·    Insist on making the main dish, but then show up 3 hours late. 
o  This is advanced technique that can only work if you are a central figure in the family. If you are the rando fiancé of the weird cousin that lives far away, this is too bold for you. If you have a mind for long-term strategy, the key is to spend the other 364 days of the year tricking your family into believing you are dependable enough to carry the weight of the main dish. Then, take that trust and crush it under your heel as the bellies of your family members ache with hunger. 
·    … I wish I had 3 points, but I don't. This is a cotton-pickin' blog, not Southern Living! Gah!
Alright, I've given you the tools — it's up to you to use them skillfully. Work on one or two of these techniques now so you'll never have to work another holiday again!
Feliz navidad!