Being a singleton is a tough gig these days.
Our Moms are furtively creating online dating profiles for us…
pics from our ex's Cancun weddings are splashing across our FB feed…
our friends have stopped protesting and instead pat our arms sympathetically when we indulge in self-deprecating rants..
andddd we've started to wave back encouragingly when randos honk at us.
Indeed, it is difficult, if not impossible, to be Single and Dignified. The Day of Valentine is especially proficient at stripping the dignity from singletons. How should one who flies solo face the barrage of ooey-gooey love-declarations?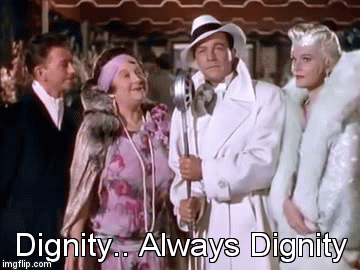 Don't overcompensate. You may be tempted to not just like, but heart all of the social media posts from your couplet friends. You may want to comment "OMG! best couple everrrrr!! #slay." You may want to post something on your own timeline about how seeing everyone's couple pic is like a glitter explosion of good feels. Hold the keyboard, Bubbles. You're going to come across as trying too hard, and these responses will be seen as a valiant but unsuccessful attempt to cover your loneliness.
Don't be a bitter jerk-face. If you're a dark soul like myself, you may be tempted to go on a jaded and self-deprecating rant. You may want to troll other people's pics and leave comments like "OMG! You and Alphonso look great. Almost as great as you and Jo-Jo looked last year." Or you may be tempted to post a pic of you and your dog, with some statement about how humans can't be trusted but this little guy has stuck with you through the ages. All of this is unadvisable. Your anger and sarcasm is inappropro, and will probably only result in people pitying you, which will only further enrage you.
Don't ghost. If you're very passive, you may be tempted to just avoid all forms of social media. This is not as pathetic as the other options, but it makes you look like a bad sport. Your silence may not be noticed, or people may assume you're binge-watching rom-coms and crying hysterically, throwing half-eaten chocolate truffles at the screen. Don't let people's imaginations wander.
Don't do Galentine's Day. Very likely to turn into commiseration and re-hashing of everyone's last decade of failed relationships.
Don't get drunk. Expensive. Also, pathetic.
For the love of all human dignity, DO NOT VISIT, CALL, TEXT, EMAIL, FAX, TELEGRAPH, OR SMOKE-SIGNAL YOUR EX.
Do love expansively. A reasonable balance is to re-share a post of your favorite couple, like maybe your parents, and then log-off social media for the rest of the day. Go workout or get a pedicure, and then remember how uninspiring V-Day was even when you were in couplehood. I've only been in a relationship one time when ol' V Day hit, and we went to Longhorn. We chatted about an international trip I was about to embark on. He gave me a card that was uncharacteristically sappy and featured glitter cats, which was puzzling because neither cats nor glitter held a deep meaning for either of us. He didn't write anything extra in the card, it was simply signed "-Ethan."* Pretty sure he just grabbed the first pink card he saw. So if you're feeling morose, just remember that being in a relationship on Valentine's Day isn't guaranteed to be all that spectacular anyway. Then call your Grandma or someone who has shown you unconditional love and tell them that you love them. Maybe donate to an organization that actually puts love into action (e.g. International Justice Mission). Maybe contemplate the cross, the greatest act of love in all of history. But don't over-cheese, don't be sulky or bitter, don't hide, and DO NOT CONTACT YOUR EX. Hold your head high, singletons, and love the fact that romantic love is only a very tiny sliver of the love pie.
— EDITORIAL NOTES —
*Names have been changed to protect the innocent