Here's the dealio-yo: I have several persons and things that I'm lowkey obsessed with. I will therefore use this blog as a platform to explain to you, dearest of readers, why I love them so much. Why? Well, Misery may love company, but Fangirling marries and has babies with it, amiright?
Without further ado, this Stuffz Gallo Likes pilot episode is going to feature *drum roll * JOHN CRIST!
Let's start with the obvs: John Crist is a comedic genius. His Instagram stories have made me giggle through some of my darkest hours (my favorite of his highlighted ig stories – Yoga and Buc-ee's). His videos Christian Mingle Inspector and the Church Hunters episodes are satire at its BEST, and I watched this Bible Verse Lady video at least 14 times and lol'd every time. His stand-up makes me want to stand up and dance and cheer, know what I mean green bean?
But John Crist is worth more than a lolz. If his comedy is gold, his thoughtful contemplations are platinum. ⚡️ He genuinely inspired me in an interview with Sam Collier, radio host of A Greater Story. John said "[People are] like 'Hey, I want to be a comic. I like what you do up there. What do you think about this bit?' And I say … 'If you believe in it, just go do it.' … I respect anyone who just shows up."
Amy Poehler said something similar in the beginning of her book Yes, Please!:"Remember, the talking about the thing isn't the thing. The doing of the thing is the thing."
I need to hear this, maybe every day. I have so many ideas – for blog posts, books, science experiments, entrepreneurial pursuits – some of which for sure border on brilliance… but if all I do is jabber about them or wait for someone else to validate them, it doesn't matter. What should matter is if I think the ideas are good and/or funny and/or true. If they are, I should stop talking about it and make it happen. If they're not, I should shut up and move on.
As my wise Majer once exclaimed, "Poo or get off the pot!"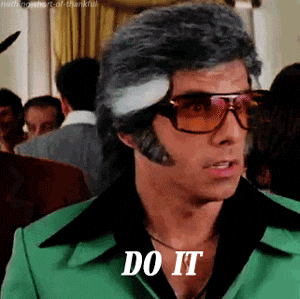 But wait, there's more! Later in the interview, John says "People ask me all the time, 'Would you ever delete a tweet… would you ever delete a video .. would you ever delete something that wasn't successful?' I would say no, because that is giving people the power that you made it for them."
Yowza. Some of my favorite posts get almost no views, and I have been tempted to go back and delete some of these shamefully unpopular posts. But I love John's advice here. If I'm blogging for you – dear as you are – it probably won't be as "true," and definitely not as fun. I'll either be constantly frustrated by my failure to engage people, or turn into a puppet, á la Billy Joel's The Entertainer. So unfortunately for all of you, I'm going to keep posting stuff that, well, I like. All the better if some of you like it, too. But if not… ¯\_(ツ)_/¯
In toto, THANK YOU JOHN, I LOVE YOU!* ❤ ❤ ❤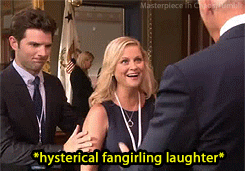 — EDITORIAL NOTES —
*As a sister in Christ, obvs…. #superchrish I'm not actually in love with him, for realz. Although a recent ex-boyfriend once asked me "If you love him so much, why don't you marry him?" To which I sez, "Jokes on you – I already did." At which he looked slightly amused, but also bemused. In restrospect, that was probably the beginning of the end. *gazes at John Crist poster plastered to ceiling* Dammit John, I hope you're worth it.